Alaska Self Guided Fishing
If you book at Coffman Cove's Bear's Den, there is no need to travel for 60 minutes prior to catching your halibut. Most of our premium fishing is located within four miles of our lodge. Record-size halibut and salmon have been consistently caught here.
Coffman Cove's Bear's Den specializes in very affordable self-guided fishing packages. Catch your limit while enjoying our exceptional lodging, delicious meals and breathtaking views!
A 20 foot Hewescraft hardtop that is powered by a 115 HP Yamaha outboard and a 9.9 HP kicker. It is equipped with VHS radio, GPS/Sonar, downriggers and top of the line fishing equipment.
A 21 foot Chaparral with cuddy cabin. This is equipped with a new 150 HP Yamaha outboard.
Catch Trophy Size Halibut, Salmon and Other Fish
Prince of Wales is part of the Alexander Archipelago which is made up of thousands of small islands. The waters surrounding Coffman Cove host a large variety of fish including multiple species of salmon, halibut, cod, ling cod and Rockfish.
Self-guided fishing is for those who seek the satisfaction of pursuing their quest for catching trophy- sized halibut, salmon and other varieties of fish without the supervision of a guide. This eliminates certain slot limits for halibut and increases the limit size. It is ESSENTIAL that the fishermen have some knowledge of watercraft safety and the ability to read nautical maps.
The Bear's Den can create a unique experience for you. It you want to saltwater fish, we have the boat and tackle for you. If you want to explore more than two dozen rivers within minutes of Coffman Cove, we can supply you with a spinning rod and tackle. Or, if you prefer, you can bring your personal fly rod and try to match the hatch!
Saltwater Fishing
Premium saltwater boat package:
$2495/person – 4 person party
$2695/person – 3 person party
We provide a Saturday mid-day check-in and an early morning checkout on the following Saturday.
NEW BOAT – 2020 20 ft Hewescraft with a 115 hp Yamaha Outboard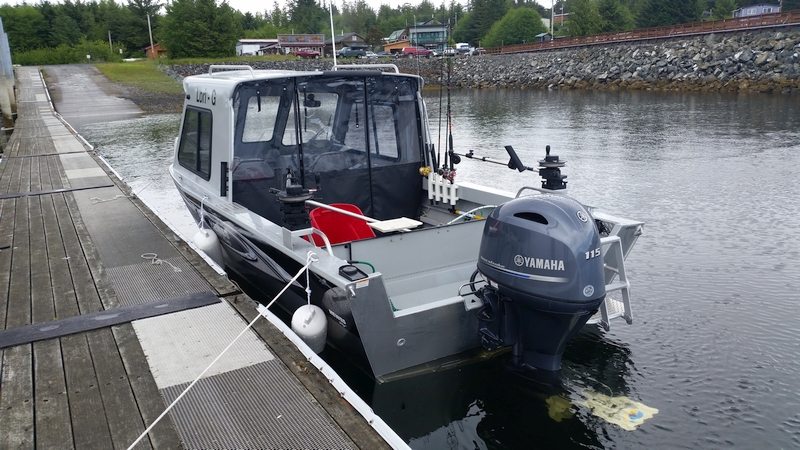 21 ft Chaparral with a new 150 Yamaha outboard. Cuddy cabin.
River Fishing Trips
River Fishing Package: $1750
Make a reality of your dream to catch four different species of salmon, trophy sized Rainbows, Cutthroats and Dolly Varden char. An SUV will be provided along with spinning rods and tackle. Fuel is paid for by the guest.
** June and Sept bookings $1350
** 50% deposit due upon booking balance upon arrival.
** Cancelation within 90 days will be credited to the following year
COMBINATION FISHING
Do you want the best of both worlds when fishing the big waters of Clarence Strait? Are you interested in a more relaxed experience where someone takes you fishing and puts you on the fish? For an additional cost, we can book you for part of your week or your full week with Coffman Cove's premier fishing guide, John Rodriguez at J and J Charters. Many of our guests have booked with John and have found it to be a great experience as they are introduced to local fishing techniques. If you have never fished on Prince of Wales Island, this is highly recommended.